(CARSON)
Carson, CA is located in Los Angeles County, California. Approximately 19 miles to the north is downtown Los Angeles, linked to Carson by Interstate Highway 110. Carson is primarily a manufacturing community. About half of its land mass is taken up by factories, refineries, and other industrial structures. After decades of existence as an unincorporated community of Los Angeles County, Carson was finally incorporated as a city in 1968 when its citizens took to the polls and voted to do so by a nearly 2-to-1 margin. On the same date, by a much narrower vote, the citizens chose the name Carson for their new city over the name Dominguez (these were the two leading family names in the city's history). Following its incorporation, Carson acted quickly to enforce a strict landscaping and building code, resulting in modernizations and improvements in the city's industrial parks and overall appearance.
Carson is famous for hosting the very first air show ever held in the United States. It took place in 1910; just seven years after the Wright Brothers made their first flight near Kitty Hawk, and was known as the "Great Air Meet." The site where this show took place has since been declared a California historical landmark.
Carson: These are the boundaries and neighborhoods within Carson.
Carson is the location of the Home Depot Center, a sports complex which includes a soccer stadium used by the Los Angeles Galaxy, a track and field facility, and a tennis stadium. The Center also serves as a training facility by the U.S. national soccer team. Professional sports teams which play in Carson include the Los Angeles Galaxy and C.D. Chivas USA (MLS Soccer), the Carson Buzz (ABA Basketball), and the Los Angeles Riptide (MLL Lacrosse).
Ask us for more information about Carson.
The median home sales price for a Single Family in Carson was $748K, trending up 17.8% since last September 2020. On median, Single Family homes in Carson, CA sell after 12 days on the market.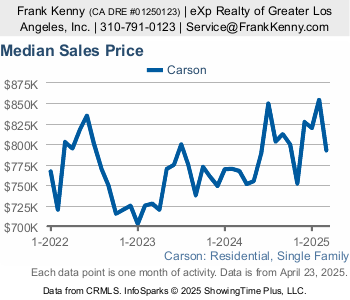 *Data is for Single Family Homes in Carson.
Get Your Home Value Now — Free & Instant