Rancho Palos Verdes Real Estate
(RANCHO PALOS VERDES)
Rancho Palos Verdes, California, in Los Angeles county, is 6 miles SW of Torrance, California (center to center) and 11 miles W of Long Beach, California. The city is situated on top of the bluffs of the Palos Verdes Peninsula and offers spectacular views of the Pacific Ocean. It includes numerous coves and cliffs. The municipality is regarded as an upscale suburb of Los Angeles. The main commercial area for the Palos Verdes Peninsula is located in nearby Rolling Hills Estates.
Ask us for more information about Rancho Palos Verdes.
Rancho Palos Verdes: These are the boundaries of "Zip Code" 90717. Below, you will find specific neighborhoods within 90717.
The median home sales price for a Single Family in Rancho Palos Verdes was $1.7M, trending up 19.1% since last September 2020. On median, Single Family homes in Rancho Palos Verdes , CA sell after 10 days on the market.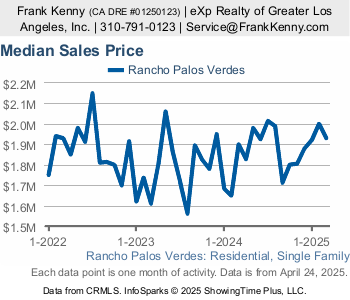 *Data is for Single Family Homes in Rancho Palos Verdes.
Get Your Home Value Now — Free & Instant