Rolling Hills Real Estate
(ROLLING HILLS)
Rolling Hills Estates, California is 3 miles S of Torrance, California and 9 miles W of Long Beach, California.
Rolling Hills Estates is located in Los Angeles County. The county was founded in 1850. The city was a part of the first Spanish rancho land grant in the state of California. The City of Rolling Hills Estates was incorporated on September 18, 1957.
Local parks include the Ken Malloy Harbor Regional Park, the Silver Spur Park, Rockbluff Park and the Cerritos Regional County Park. The Los Angeles Maritime Museum, the Banning Residence Museum and the Museum of Contemporary Art are the local museums. The Watts Towers of Simon Rodia State Historic Park, Rancho Los Cerritos and the Pío Pico State Historic Park are all accessible from Rolling Hills as well.
Ask us for more information about Rolling Hills.
Rolling Hills: These are the boundaries of "Zip Code" 90274. Below, you will find specific neighborhoods within 90274.
The median home sales price for a Single Family in Rolling Hills was $3.3M, trending down by -3.9% since last September 2020. On median, Single Family homes in Rolling Hills, CA sell after 8 days on the market.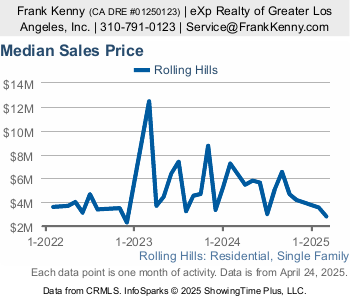 *Data is for Single Family Homes in Rolling Hills.
Get Your Home Value Now — Free & Instant