West Torrance Real Estate
(WEST TORRANCE)
West Torrance is located in Los Angeles County, 25 minutes southwest of Los Angeles. Torrance is part of the Los Angeles metropolitan area.
Torrance experiences the famous Southern California weather. Temperatures are pleasant year-round, with summer average daily temperatures in the 70s and winter temperatures in the 60s.
West Torrance provides easy access to all of the arts, cultural and entertainment offerings of Los Angeles.
The Del Amo Fashion Center, one of the largest malls in the United States.
The Torrance Art Museum.
Torrance Beach.
The Torrance Civic Chorale.
The Torrance Cultural Arts Center.
Torrance High School whose facade was used in the television programs Beverly Hills 90210 and Buffy the Vampire Slayer.
The Torrance Theatre Company.
Ask us for more information about West Torrance.
West Torrance: These are the boundaries of "Zip Code" 90503. Below, you will find specific neighborhoods within 90503.
The median home sales price for a Single Family in West Torrance was $1.1M, trending up 25% since last September 2020. On median, Single Family homes in West Torrance, CA sell after 9 days on the market.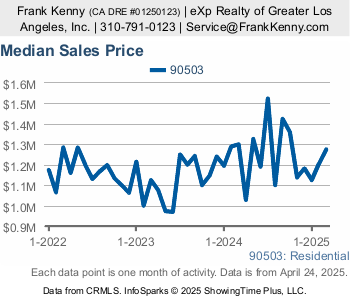 *Data is for Single Family Homes in 90503.
CHECK YOUR HOME VALUE
Curious to know how much your home might sell for? Check your home value now.